Clinical Integration
Strengthen hospital supply chain decisions
with an evidence-based and physician-led approach
Start the Conversation
Browse
A Physician-Led Approach to Creating Value
The evolution of value-based care and the rise of patients as consumers of healthcare services have shifted the focus of care delivery to clinical data, evidence-based decision-making, patient engagement, and physician participation in care redesign and supply chain decisions. The future of supply chain will be driven by clinical decisions as much as financial ones.
Chief Medical Officer, John J. Young, M.D., MBA, is driving these efforts at HealthTrust, assisting clients in optimizing organizational performance and improving clinical collaboration.
Physician Advisors Program
Physicians have a vital role to play as healthcare organizations transition from a fee-for-service to a value-based payment structure that is based on entire episodes of patient care. HealthTrust CMO John J. Young, M.D. oversees a group of more than 150 physician advisors from around the country who are helping us craft our clinical strategy.
These advisors, combined with our clinical research and data capabilities, bring a new level of clinical integration to our provider-driven sourcing and contracting processes. Physicians help lead new technology reviews; study and analyze drug and device utilization trends; and identify ways to drive value for our partners and members across physician preference product categories.
HealthTrust physician advisors comprise a growing team of supply-chain-savvy clinicians who are becoming champions for change in their own facilities and institutions. These current and future leaders partner with operators to implement our new, clinically integrated approach to supply utilization.
Clinical Research and Education
Clinical integration requires sound evidence for decision-making, as well as the ability to share this information across health systems. Our Clinical Research and Education team conducts exhaustive literature searches and creates comprehensive evidence reviews on products, devices and technologies.
This research—combined with data drawn from internal resources as well as the FDA—forms the basis for our evidence-based contracting. It is used by our partners and members to support utilization efforts and to address unnecessary variation in clinically sensitive product categories.
At HealthTrust, we view provider education as one of our core responsibilities. Our Clinical Research and Education team supports this goal with hands-on education sessions, workshops, webinars and written materials—all designed to improve understanding of our contracted products and how they fit into a cost-effective supply chain strategy.
Clinical Data and Analytics
Today, everyone has data. It's what you do with it that makes the difference. Clinical integration requires evidence to support decision-making, but the literature often leaves key questions about outcomes or cost effectiveness unanswered. HealthTrust continuously invests in clinical data and analytics, and data scientists, to fill these gaps.
Our proprietary platform uses national MedPAR and IDN-level case mix data to analyze clinically relevant patient populations. Key services lines— notably cardiovascular, orthopedics and spine—are measured against specific competitors to help providers quickly identify improvement opportunities. Utilization, cost, length of stay and outcomes information are also collected on post-acute care providers so hospitals can manage entire episodes of care. The database will soon expand to include purchasing data, enabling organizations to study product efficacy and drug cost in large populations.
Our registry software (InVivolink) combines an orthopedic and spine implant registry with web-based technology that educates and informs patients while building the physician-patient relationship and collecting patient-reported outcomes. Patient interactions and data collection start before surgery and continue up to a year post-discharge.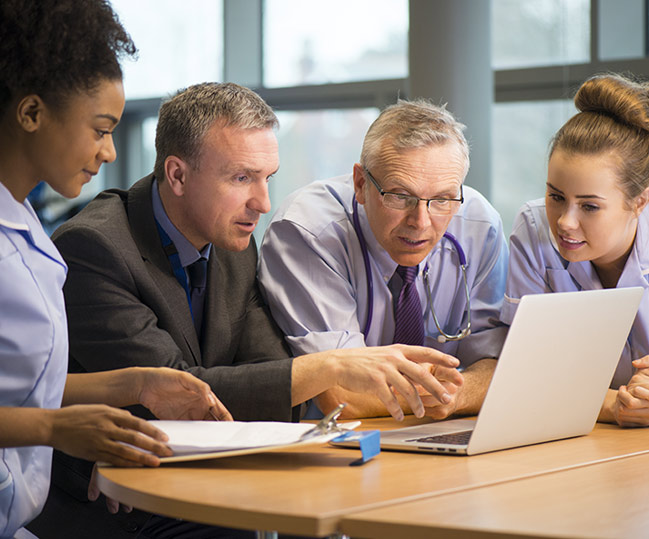 Advisory Services
Our clinical team is comprised of operators with first-hand knowledge of effective care redesign, medical device sourcing and service line management strategies. We can assist you with the challenges of engaging physicians and evaluating technology, and creating care delivery models that optimize outcomes, ensure smooth transitions across care episodes, and manage the expectations of patients to improve their care experience.
Let us help you collect and act on evidence-based data at your organization, and make the connection between medical decision-making and long-term patient outcomes.
Read More
Strengthen hospital supply chain decisionswith an evidence-based and physician-led approach
Start the Conversation