Advisory Services | Clinical Integration
Discovering value together with an evidence-based, outcomes-focused and physician-led approach
Start the Conversation
Browse
Practical Solutions for Powering Performance
HealthTrust's evidence-based and physician-led approach ensures the highest quality care is delivered most efficiently. Our team of clinicians and operators specialize in:
Pharmacy Solutions to manage expenses and optimize clinical programs
Surgical Solutions to improve patient flow, supply management, and preference card accuracy
Lab Solutions to manage capacity, workflow, and test stewardship
Value Analysis to give physicians voice and ownership in strategic supply chain decisions
Medical Device Management to help manage clinically sensitive implant service lines based on clinical evidence and outcomes
Care Redesign to evaluate current care delivery processes, identify improvement opportunities and implement physician-approved clinical protocols
Physician Engagement to promote and facilitate collaboration with physicians and non-clinicians to achieve better patient outcomes
Pharmacy Solutions
HealthTrust has proven methodologies to help members improve their pharmacy operations, clinical programs and formulary management.
Our optimization program includes developing the appropriate metrics to monitor financial, formulary, clinical, quality and regulatory performance. HealthTrust will work with your facility to develop leadership and staff and implement an optimization program to reduce pharmacy expenses while enabling a greater focus on patient care.
Surgical Solutions
HealthTrust works with providers to reduce expenses, improve documentation accuracy, maintain inventory control and increase productivity.
We are hospital operators collaborating with physicians, clinicians, supply chain professionals, executives and suppliers. Our proven solutions improve surgical operations by promoting standardization, reducing waste, improving turnover and enhancing data accuracy to ensure proper charges for patients.
Lab Solutions
We understand the complexities and challenges of managing the lab in today's environment, and we can provide the solutions to provide the services needed by your patients and drive down costs through effectively managing equipment, supplies, and staff.
Our comprehensive approach addresses all areas impacting a lab's financial and operational performance. From workflow design to equipment planning to profitability analysis, we provide actionable recommendations that yield impactful and lasting change.
Value Analysis
Healthcare executives are challenged to develop a clinically integrated, evidence-based process for evaluating products, technologies and services to ensure the greatest quality of care and value to patients.
HealthTrust has a team of clinicians/operators and a proprietary database of more than 1,000 best demonstrated practices to help hospitals establish a robust value analysis process—or add rigor to an existing program. Our methodologies focus on engaging physicians and key stakeholders to equip them with an effective, repeatable and sustainable means to stay ahead of continuous cost and quality pressures.
Medical Device Management
Value-based payment models, pressure on reimbursement and healthcare consumerism are increasing the demands on supply chains to source for physician-preference items that are not only cost-effective, but also supported by clinical evidence, best practices and guidelines for appropriate use.
HealthTrust's Medical Device Management expertise helps providers prioritize clinical evidence and transparently communicate with physicians to collaboratively reach decisions regarding clinically sensitive products—including  where there are opportunities to improve cost, utilization and technology mix and to optimize the care delivery model.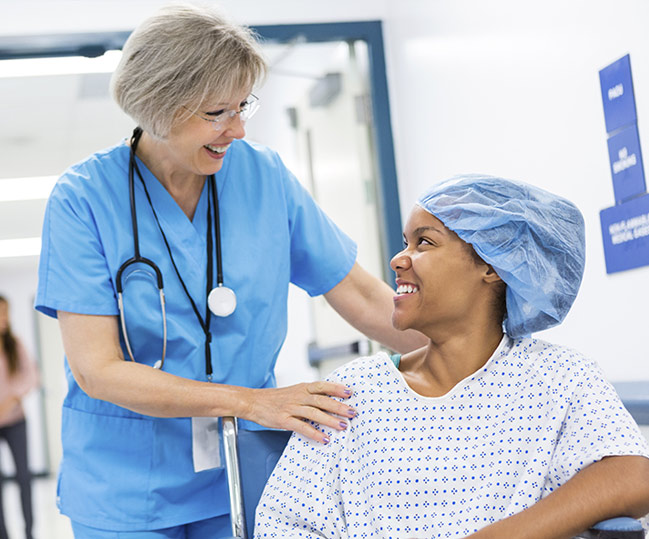 Care Redesign
HealthTrust's care redesign team, managed by our Clinical Data Solutions division, is comprised of clinicians and operators with decades of experience. We leverage proprietary software to evaluate your performance in service lines that include cardiovascular, orthopedics and spine, and benchmark it against that of your competitors. Our advisors can quickly identify opportunities to improve acute care treatments and protocols, and evaluate the quality and utilization of post-acute care providers in your area to assist your care teams in selecting the most appropriate recovery locations.
Evidence-based toolkits, written and vetted by world-renowned physicians, provide guidance on how to prevent complications and improve both operational and clinical outcomes. Many of these best practices are based on research conducted by our physician advisors and published in peer-reviewed scientific journals.
Physician Engagement
The shift to value-based healthcare means that physicians and administrators must share a common goal of promoting and delivering quality outcomes. But sometimes, collaboration between these two groups can be challenging. HealthTrust can help you align physicians around initiatives that improve service line and supply chain value.
We know firsthand how important data is to clinicians and why evidence is a prerequisite to their participation in care redesign efforts. We promote a transparent process, supported by clinical research and data—and bolstered by an experienced team of physicians who are personally familiar with the vast array of products (often redundant) on the market.
Discovering value together with an evidence-based, outcomes-focused and physician-led approach
Start the Conversation