inSight Advisory | Clinical Integration
Discovering value together with an evidence-based, outcomes-focused and physician-led approach
Start the Conversation
Browse
Practical Solutions for Powering Performance
HealthTrust's evidence-based and physician-led approach ensures the highest quality care is delivered most efficiently. Our team of clinicians and operators specialize in:
Medical Device Management to help manage clinically sensitive implant service lines based on clinical evidence and outcomes
Care Redesign to evaluate current care delivery processes, identify improvement opportunities and implement physician-approved clinical protocols
Physician Engagement to promote and facilitate collaboration with physicians and non-clinicians to achieve better patient outcomes
Bundled Payments to guide the transition from fee-for-service to value-based care
Patient Engagement and Patient-reported Outcomes to educate and inform patients through effective communication, and capture their recovery perceptions, across episodes of care
Medical Device Management
Value-based payment models, pressure on reimbursement and healthcare consumerism are increasing the demands on supply chains to source for physician-preference items that are not only cost-effective, but also supported by clinical evidence, best practices and guidelines for appropriate use.
HealthTrust's Medical Device Management expertise helps providers prioritize clinical evidence and transparently communicate with physicians to collaboratively reach decisions regarding clinically sensitive products—including  where there are opportunities to improve cost, utilization and technology mix and to optimize the care delivery model.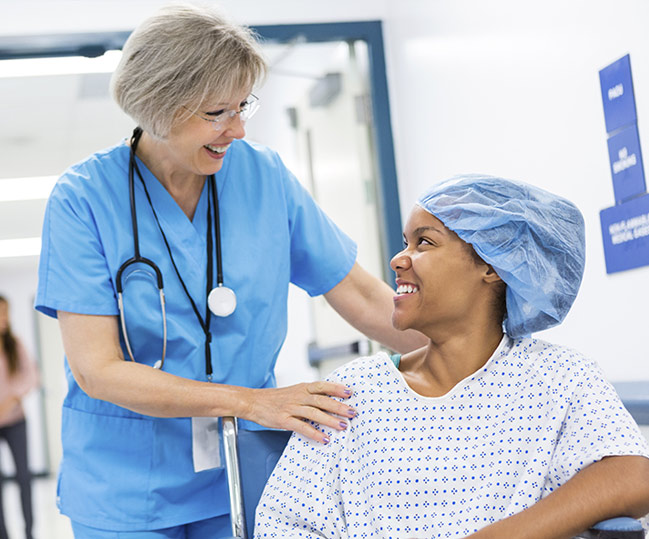 Care Redesign
HealthTrust's care redesign team, managed by our Clinical Data Solutions division, is comprised of clinicians and operators with decades of experience. We leverage proprietary software to evaluate your performance in service lines that include cardiovascular, orthopedics and spine, and benchmark it against that of your competitors. Our advisors can quickly identify opportunities to improve acute care treatments and protocols, and evaluate the quality and utilization of post-acute care providers in your area to assist your care teams in selecting the most appropriate recovery locations.
Evidence-based toolkits, written and vetted by world-renowned physicians, provide guidance on how to prevent complications and improve both operational and clinical outcomes. Many of these best practices are based on research conducted by our physician advisors and published in peer-reviewed scientific journals.
Physician Engagement
The shift to value-based healthcare means that physicians and administrators must share a common goal of promoting and delivering quality outcomes. But sometimes, collaboration between these two groups can be challenging. HealthTrust can help you align physicians around initiatives that improve service line and supply chain value.
We know firsthand how important data is to clinicians and why evidence is a prerequisite to their participation in care redesign efforts. We promote a transparent process, supported by clinical research and data—and bolstered by an experienced team of physicians who are personally familiar with the vast array of products (often redundant) on the market.
Bundled Payments
Bundled payments combine reimbursement for the multiple services patients receive during an "episode of care" that can stretch from hospital check-in to one year post-discharge, and represent a dramatic shift from the traditional, fee-for-service model. Managing costs and improving quality under these new payment mechanisms require clinical excellence, data and analytics expertise, and greater coordination between care providers. HealthTrust's bundled payment advisors have first-hand operator experience in managing care episodes and can help you create a roadmap to higher quality, better outcomes and lower costs of care for your organization.
We offer integrated solutions to bundled payments that include both technical and non-technical components, and are all designed to deliver optimal care outcomes—including  improved patient satisfaction scores. Among our focus areas are patient education and awareness, adoption of research-backed clinical treatment protocols, capture of patient-reported outcomes, and device and supply cost management.
Patient Engagement and Patient-reported Outcomes
Communicating with patients at relevant points during an episode of care is not only critical to their satisfaction; it also enhances care quality and reduces care costs. HealthTrust can help you engage patients, track outcomes and improve satisfaction using InVivoLink, a comprehensive care management platform that connects medical decision-making with long-term patient outcomes.
InVivoLink combines an orthopedic and spine implant registry with web-based technology for building the physician-patient relationship and collecting patient-reported outcomes. The educational content provided is customized based on the patient, surgeon, implant used, hospital and patient group. By utilizing this tool as a registry, hospitals can compare outcomes associated with different treatment options—analyzing medical devices, surgical approaches and patient populations—to enable more meaningful conversations about value and efficacy.
Discovering value together with an evidence-based, outcomes-focused and physician-led approach
Start the Conversation